Hyundai Palisade: Power Liftgate / Power liftgate non-opening conditions
The power liftgate does not open when the vehicle is in motion.
WARNING
The chime will sound if you 3 drive with the liftgate opened. Stop your vehicle immediately at a safe place and check if your liftgate is opened.
CAUTION
Operating the power liftgate more than 5 times continuously could cause damage to the operating motor. In this case, the power liftgate system enters into thermal protection mode to prevent the motor from overheating.
In thermal protection mode the power liftgate will not operate. If any of the power liftgate buttons are pressed to try to open the liftgate, the chime will sound 3 times but the liftgate will remain closed.
Allow the power liftgate system to cool for about 1 minute before operating the system again.
NOTICE
The power liftgate can be operated when the engine is not running. However, the power liftgate operation consumes a large amount of electic power. To prevent the battery from being discharged, do not operate it excessively (e.g. more than 5 times repeatedly).
To prevent the battery from being discharged, do not leave the power liftgate in the open position for a long time.
Do not modify or repair any part of the power liftgate by yourself. This must be done by an authorized HYUNDAI dealer.
When jacking up the vehicle to change a tire or repair the vehicle, do not operate the power liftgate. This could cause the power liftgate to operate improperly.
In cold and wet climates, the power liftgate may not work properly due to freezing conditions.
Categories
Rear seat adjustment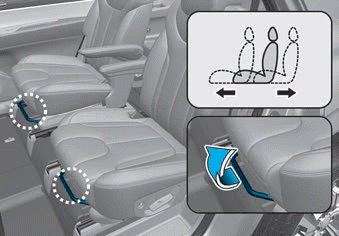 Forward and rearward (2nd row seat)
To move the seat forward or rearward:
1. Pull the seat slide adjustment lever up and hold it.
2. Slide the seat to the position you desire.