Hyundai Palisade: Warning and Indicator Lights / SMART Mode, All Wheel Drive LOCK, Downhill Brake Control (DBC) Indicator Lights
SMART Mode Indicator Light

This indicator light illuminates:
• When you select ''SMART" mode as drive mode.
All Wheel Drive LOCK Indicator Light

This indicator light illuminates:
When you set the ignition switch or the Engine Start/Stop button to the ON position.
- The AWD LOCK indicator light illuminates for about 3 seconds and then goes off.
When you select AWD Lock mode by pressing the AWD LOCK button.
- The AWD LOCK mode is to transfer a portion of the drive torque to the rear wheels for increased traction on wet pavement, snow covered roads or when driving off road.
CAUTION
AWD Lock Mode
Do not use the AWD lock mode on dry paved roads. Doing so can cause abnormal noise or vibration, and may damage the AWD system.
Categories
Seat belt warning light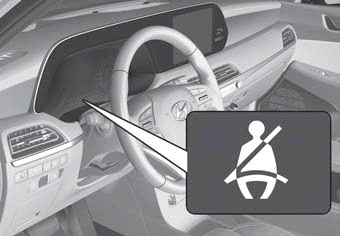 Driver's seat belt warning
As a reminder to the driver, the seat belt warning light will illuminate for approximately 6 seconds each time you place the ignition switch to the ON position regardless of belt fastening. At this time, if the seat belt is not fastened a warning chime will sound for 6 seconds.