Hyundai Palisade: Brake System / Specifications
Item

Specification

Master cylinder


Tandem
22.22 mm (0.87 in)
45 ± 1 mm (1.77 in ± 0.87 in)
Provided

Brake booster


10.5" Single
10:1

Front brake (Disc)


Ventilated disc
340 mm (13.38 in)
30 mm (1.18 in)
Double piston
Ø 45.99 mm (1.81 in) x 2

Rear brake (Disc)


Ventilated disc
314 mm (12.36 in)
18 mm (0.70 in)
Single piston
Ø 43 mm (1.69 in) [Electric type]

Parking brake


Electric parking brake
Electirc type

Specification (VDC)
Part

Item

Standard value

Remark

HECU

System

4 Channel 4 Sensor control system

Total control (ABS, TCS, EBD)

Type

Motor, valve relay intergrated type

ECU, TCU and CAN

Operating Voltage

8V - 16V



Operating Temperature

-40°C - 110°C



Motor power

195W[Nomal]] / 315W[Plus]



Active Wheel speed sensor (ABS)

Supply voltage

DC 4.5 - 20V



Output current low

5.95 - 8.05 mA

Typ .7 mA

Output current high

11.9 - 16.1 mA

Typ .14 mA

Output range

1 - 2,500 Hz



Tone wheel

Front : 52 teeth, Rear : 52 teeth



Air gap

0.4 - 1.0 mm



Steering Wheel Angle Sensor

Operating Voltage

8V - 16V



Current Consumption

Max. 150 mA



Output measurement range

-780 to + 779.9°



Operating Angular velocity

0 - 1016°/sec



Service Standard
| | |
| --- | --- |
| Items | Standard value |
| Brake pedal height | 135 mm (5.31 in) |
| Brake pedal Full stroke | 176 mm (6.93 in) |
| Brake pedal free play | 1 - 2 mm (0.04 in - 0.08 in) |
| Brake pedal free play | 2 - 4 mm (0.08 in - 0.16 in) |
| Front brake disc pad thickness | 10.5 mm (0.41 in) |
| Front brake disc pad service limit | 2.0 mm (0.07 in) |
| Front brake disc thickness | 30 mm (1.18 in) |
| Front brake disc service limit | 28 mm (1.10 in) |
| Rear brake disc thickness | 18 mm (0.70 in) |
| Rear brake disc service limit | 16 mm (0.62 in) |
| Rear brake disc pad thickness | 10 mm (0.39 in) |
| Rear brake disc pad service limit | 2.0 mm (0.07 in) |
Tightening Torques
| | | | |
| --- | --- | --- | --- |
| Items | N.m | kgf.m | lb-ft |
| Master cylinder to brake booster | 9.8 - 15.6 | 1.0 - 1.6 | 7.2 - 11.6 |
| Brake booster mounting nuts | 16.7 - 25.5 | 1.7 - 2.6 | 12.3 - 18.8 |
| Air bleeding screw | 6.9 - 12.7 | 0.7 - 1.3 | 5.1 - 9.4 |
| Brake tube flare nut, brake hose | 13.7 - 16.7 | 1.4 - 1.7 | 10.1 - 12.3 |
| Front caliper guide rod bolts | 37.3 - 41.2 | 3.8 - 4.2 | 27.5 - 30.4 |
| Rear caliper guide rod bolts | 37.3 - 41.2 | 3.8 - 4.2 | 27.5 - 30.4 |
| Front caliper assembly mounting bolt | 98.1 - 117.7 | 10.0 - 12.0 | 72.3 - 86.8 |
| Rear caliper assembly mounting bolt | 98.1 - 117.7 | 10.0 - 12.0 | 72.3 - 86.8 |
| Brake hose to caliper | 24.5 - 29.4 | 2.5 - 3.0 | 18.1 - 21.7 |
| Brake pedal member bracket bolt | 16.7 - 25.5 | 1.7 - 2.6 | 12.3 - 18.8 |
| Wheel speed sensor mounting bolt | 6.9 - 10.8 | 0.7 - 1.1 | 5.1 - 8.0 |
| HECU bracket mounting nut | 16.7 - 25.5 | 1.7 - 2.6 | 12.3 - 18.8 |
Lubricants
| | | |
| --- | --- | --- |
| Items | Recommended | Quantity |
| Brake fluid | DOT 3 or DOT 4 | As required |
| Brake pedal bushing and bolt | Chassis grease | As required |
| Parking brake shoe and backing plate contacting surface | Heat resistance grease | As required |
Special Service Tools Tool (Number and Name) Illustration Use 09581-11000 Piston expander Spreading the front disc brake piston...
Other information:
Repair procedures Removal 1. Raise the vehicle, and make sure it is securely supported. 2. In the case of 4WD vehicle, remove the rear differential assembly. (Refer to Driveshaft and axle - "Rear Differential Carrier") 3...
Non-power liftgate To unlock and open the liftgate: 1.Make sure you have the smart key in your possession. 2.Press either the liftgate handle release switch on the vehicle for more than one second. The hazard warning lights will blink two times and the liftgate latch will unlock...
Categories
Seat belt warning light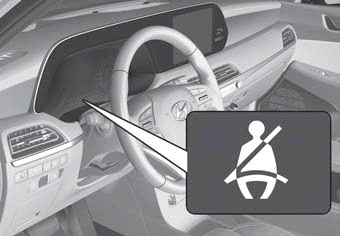 Driver's seat belt warning
As a reminder to the driver, the seat belt warning light will illuminate for approximately 6 seconds each time you place the ignition switch to the ON position regardless of belt fastening. At this time, if the seat belt is not fastened a warning chime will sound for 6 seconds.