Hyundai Palisade: 4 Wheel Drive (AWD) System / Troubleshooting
Area of leakage occuring

Area

Applied engine

① Connecting part/under part of transfer case
② Connecting part of transmission
③ Assembly part of drive shaft
④ Air bleeder part


R2.0/2.2
Theta 2.0/2.4
Nu 2.0


Lambda 3.3/3.5/3.8
S 3.0

Symptom

Expected cause

Countermeasure

Oil leakage

Oil leakage on connecting part of transfer case (①)

Adjustment or replacement, adjustment

Oil leakage on under part of transfer case (①)

Adjustment or replacement, adjustment

Oil leakage trace on connecting part of transmission (②)

Adjustment

Oil leakage at assembly part of drive shaft (③)

Adjustment or replacement, adjustment

Oil leakage trace around air bleeder (④)

Adjustment

Upside down the oil seal main lip (②, ③)

Replacement

Pushed aside oil seal (②, ③)

Replacement

fallen out oil seal (②, ③)

Replacement

Spline abrasion (check whether spline at transmission has abrasion or not)

Adjustment or replacement, adjustment

Noise

"Repeated clicking noise" noise while driving

Adjustment

"Repeated tapping noise" noise from under the vehicle while full turn circling

Adjustment

"Clunking noise" noise when the vehicle accelerate rapidly or braking rapidly.
- Spline abrasion (check whether spline at transmission has abrasion or not)

Adjustment or replacement, adjustment

※ Range of "adjustment"
- Clean out the oil or trace of grease leakage
- Check whether engine or transmission has oil leakage and oil flow down or not.
- Check the parts that is related to trouble area.
Special Service Tools Engine Tools (Number and name) Illustration Use Diesel 2...
Other information:
Downhill Brake Control disabled. Control vehicle speed When the DBC system is not working properly this warning message will appear on the LCD display and you will hear a warning sound. If this occurs, control the vehicle speed by depressing the brake pedal...
..
Categories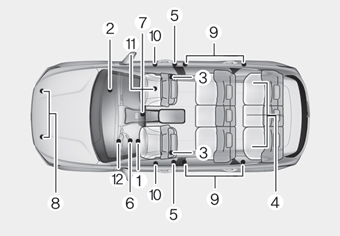 The SRS consists of the following components:
1. Driver's front air bag module
2. Passenger's front air bag module
3. Side air bag modules
4. Curtain air bag modules
5. Retractor pre-tensioner
6. Air bag warning light
7. SRS control module (SRSCM)/ Rollover sensor
8. Front impact sensors
9. Side impact sensors
10.Side pressure sensors
11. Occupant classification system
12. Driver's knee airbag module