Hyundai Palisade: Timing System / Timing Chain
Repair procedures
•

Be careful not to damage the parts located under the vehicle (floor under cover, fuel filter, fuel tank and canister) when raising the vehicle using the lift.

(Refer to General Information - "Lift and Support Points")
1.

Set No.1 cylinder to TDC/compression.

| | |
| --- | --- |
| (1) | Turn the crankshaft damper pulley clockwise and align its groove with the timing mark "T" of the lower timing chain cover. |

(2)

Check that the mark of the camshaft timing sprockets are in straight line on the cylinder head surface as shown in the illustration. If not, turn the crankshaft clockwise one revolution (360°).

[LH intake]

[LH exhaust]

[RH intake]

[RH exhaust]

| | |
| --- | --- |
| • | Do not rotate engine counterclockwise. |
2.

Remove the timing chain cover.

(Refer to Timing System - "Timing Chain Cover")

| | |
| --- | --- |
| • | Be careful not to damage the contact surfaces of cylinder block, cylinder head and timing chain cover. |

| | |
| --- | --- |
| • | Before removing the timing chain, mark the RH/LH timing chain with an identification based on the location of the sprocket because the identification mark on the chain for TDC (Top Dead Center) can be erased. |

[RH]

[LH]
| | |
| --- | --- |
| 3. | Release the ratchet by pulling the link down using a thin rod. Compress the piston and then insert a stopper pin into the hole on the ratchet to hold the compressed piston. |
| | |
| --- | --- |
| 4. | Remove the RH timing chain cam to cam guide (A). |
| | |
| --- | --- |
| 5. | Remove the RH timing chain auto tensioner (A) and the RH timing chain tensioner arm (B). |
| | |
| --- | --- |
| 6. | Remove the RH timing chain guide (A). |
| | |
| --- | --- |
| 7. | Remove the RH timing chain (A). |
| | |
| --- | --- |
| 8. | Remove the oil pump chain tensioner assembly (A). |
| | |
| --- | --- |
| 9. | Remove the crankshaft chain sprocket (A) (RH camshaft drive). |
| | |
| --- | --- |
| 10. | Remove the oil pump chain sprocket (A) and oil pump chain (B). |
| | |
| --- | --- |
| 11. | Remove the crankshaft sprocket (A) (Oil pump drive). |
| | |
| --- | --- |
| 12. | Release the ratchet by pulling the link down using a thin rod. Compress the piston and then insert a stopper pin into the hole on the ratchet to hold the compressed piston. |
| | |
| --- | --- |
| 13. | Remove the LH timing chain cam to cam guide (A). |
| | |
| --- | --- |
| 14. | Remove the LH timing chain auto tensioner (A). |
| | |
| --- | --- |
| 15. | Remove the LH timing chain tensioner arm (A). |
| | |
| --- | --- |
| 16. | Remove the LH timing chain guide (A). |
| | |
| --- | --- |
| 17. | Remove the LH timing chain (A). |
| | |
| --- | --- |
| 18. | Remove the crankshaft chain sprocket (A). (LH camshaft drive). |
| | |
| --- | --- |
| 19. | Remove the tensioner adapter assembly (A). |
Sprockets, Chain Tensioner, Chain Guide, Chain Tensioner Arm
| | |
| --- | --- |
| 1. | Check the camshaft sprocket and crankshaft sprocket for abnormal wear, cracks, or damage. Replace as necessary. |
| | |
| --- | --- |
| 2. | Inspect the tensioner arm and chain guide for abnormal wear, cracks, or damage. Replace as necessary. |
| | |
| --- | --- |
| 3. | Check that the tensioner piston moves smoothly when the ratchet pawl is released with thin rod. |
| | |
| --- | --- |
| 1. | The key (A) of crankshaft should be aligned with the timing mark (B) of block. As a result of this, the piston of No.1 cylinder is placed at the top dead center on compression stroke. |
| | |
| --- | --- |
| 2. | Install the tensioner adapter assembly (A). |
| | |
| --- | --- |
| 3. | Install the crankshaft chain sprocket (A). (LH camshaft drive). |
4.

Install the LH timing chain (A).

•

To install the timing chain with no slack between each shaft (cam, crank), follow the procedure below :

Crankshaft sprocket → Exhaust camshaft sprocket → Intake camshaft sprocket.

| | |
| --- | --- |
| • | When installing the timing chain, be sure that the timing mark of each sprocket is matched with the timing mark (color link) of the timing chain. |
5.

Install the LH timing chain guide (A).

Tightening torque :

19.6 - 24.5 N.m (2.0 - 2.5 kgf.m, 14.5 - 18.1 lb.ft)
6.

Install the LH timing chain tensioner arm (A).

Tightening torque

18.6 - 21.6 N.m (1.9 - 2.2 kgf.m, 13.7 - 15.9 lb.ft)
7.

Install the LH timing chain auto tensioner (A).

Tightening torque

9.8 - 11.8 N.m (1.0 - 1.2 kgf.m, 7.2 - 8.7 lb.ft)
8.

Install the LH timing chain cam to cam guide (A).

Tightening torque :

9.8 - 11.8 N.m (1.0 - 1.2 kgf.m, 7.2 - 8.7 lb.ft)
| | |
| --- | --- |
| 9. | Pull out the pins (A) of LH timing chain auto tensioner. |
| | |
| --- | --- |
| 10. | Install the crankshaft sprocket (A) (Oil pump drive). |
11.

Install the oil pump chain sprocket (A) and oil pump chain (B).

Tightening torque :

19.6 - 24.5 N.m (2.0 - 2.5 kgf.m, 14.5 - 18.1 lb-ft)
12.

Install the oil pump chain tensioner assembly (A).

Tightening torque :

9.8 - 11.8 N.m (1.0 - 1.2 kgf.m, 7.2 - 8.7 lb.ft)
| | |
| --- | --- |
| 13. | Install the camshaft chain sprocket (A). (RH camshaft drive) |
14.

Install the RH timing chain (A).

•

To install the timing chain with no slack between each shaft (cam, crank), follow the procedure below :

Crankshaft sprocket → Intake camshaft sprocket → Exhaust camshaft sprocket.

| | |
| --- | --- |
| • | When installing the timing chain, be sure that the timing mark of each sprocket is matched with the timing mark (color link) of the timing chain. |
15.

Install the RH timing chain guide (A).

Tightening torque

19.6 - 24.5 N.m (2.0 - 2.5 kgf.m, 14.5 - 18.1 lb.ft)
16.

Install the RH timing chain auto tensioner (A) and the RH timing chain tensioner arm (B).

Tightening torque

A : 9.8 - 11.8 N.m (1.0 - 1.2 kgf.m, 7.2 - 8.7 lb.ft)

B : 18.6 - 21.6 N.m (1.9 - 2.2 kgf.m, 13.7 - 15.9 lb.ft)
17.

Install the RH timing chain cam to cam guide (A).

Tightening torque :

9.8 - 11.8 N.m (1.0 - 1.2 kgf.m, 7.2 - 8.7 lb.ft)
| | |
| --- | --- |
| 18. | Pull out the pins (A) of RH timing chain auto tensioner. |
19.

After rotating the crankshaft 2 revolutions in regular direction (clockwise viewed from front), confirm the timing mark.

| | |
| --- | --- |
| • | Always turn the crankshaft clockwise. |

| | |
| --- | --- |
| • | Turning the crankshaft counterclockwise before building up oil pressure in the hydraulic timing chain tensioner may result in the chain disengagement from the sprocket teeth. |
20.

Install the timing chain cover.

(Refer to Timing System - "Timing Chain Cover")
21.

Install the remaining parts in the reverse order of removal.

| | |
| --- | --- |
| • | Clean the battery posts and cable terminals with sandpaper. Assemble and then apply grease to prevent corrosion. |

| | |
| --- | --- |
| • | Inspect for fuel leakage. |

| | |
| --- | --- |
| – | After assembling the fuel line, turn on the ignition switch (without operating the starter) so that the fuel pump runs for approximately two seconds and fuel line pressureizes. |

| | |
| --- | --- |
| – | Repeat this operation two to three times, and then check for fuel leakage at any point on the fuel lines. |

| | |
| --- | --- |
| • | Refill radiator and reservoir tank with engine coolant. |

| | |
| --- | --- |
| • | Bleed air from the cooling system. |

| | |
| --- | --- |
| – | Start engine and let it run until it warms up (until the radiator fan operates 3 or 4 times). |

| | |
| --- | --- |
| – | Turn off the engine and let it cool down. Check the level in the radiator, and add coolant if needed. This will allow trapped air to be released from the cooling system. |

| | |
| --- | --- |
| – | Put radiator cap on tightly, then run the engine again and check for leaks. |
Repair procedures Removal • Be careful not to damage the parts located under the vehicle (floor under cover, fuel filter, fuel tank and canister) when raising the vehicle using the lift...
Other information:
Description 1. System operation HUD system displays various information on the windshield glass which minimizes the driver's eye movement to enhance safety and convenience. The Head Up Display reflects the TFT LCD images to two mirrors (flat/concave) and displays them 2...
WARNING A vehicle can slip or roll off of a jack causing serious injury or death to you or those nearby. Take the following safety precautions: Never place any portion of your body under a vehicle that is supported by a jack. NEVER attempt to change a tire in the lane of traffic...
Categories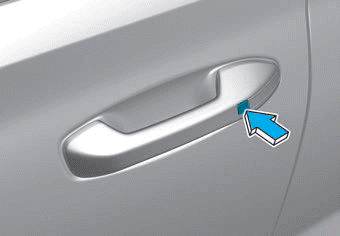 To lock your vehicle using the door handle button or the Smart Key:
1.Make sure all doors, the hood and the liftgate are closed.
2.Make sure you have the smart key in your possession.