Hyundai Palisade: Automatic Transaxle System (A8LF1) / Specifications
Item

Specifications

Engine type

Gasoline 3.8GDI

Automatic transaxle type

A8LF1

Clutch type

Torque converter

Drive system

2WD/4WD

Gear ratio

1st

4.808

2nd

2.901

3rd

1.864

4th

1.424

5th

1.219

6th

1.000

7th

0.799

8th

0.648

Reverse

3.425

Final gear ratio

3.510(2WD)/3.648(4WD)

Elements

Solenoid valve

Direct control VFS

5ea

Indirect control VFS

2ea

ON/OFF

1ea

Clutch & Brake

Clutch

4ea

Brake

2ea

Planetary gear

3ea

Oil filter

1ea

ATF

ATF Grade

Recommended

Allowed

ATF SP-IV or ATF SP4M-1

SK ATF SP-IV or SP4M-1
MICHANG ATF SP-IV or SP4M-1
NOCA ATF SP-IV or SP4M-1
Hyundai Genuine ATF SP-IV or SP4M-1

ATF quantity

About 7.0 L (1.85 U.S gal., 7.40 U.S.qt., 6.16 Imp.qt.)

※ VFS : Variable Force Solenoid
Sensors
Speed Sensor (Input shaft, Middle, Output shaft)
▷ Type : Hall Effect Sensor
▷ Specifications
Items

Specifications

Operation condition(°C)°F

(-40 to 150) -40 to 302

Output voltage(V)

High

1.18 - 1.68

Low

0.59 - 0.84

Oil Temperature Sensor
▷ Type : Negative Thermal Coefficient (NTC)
▷ Specifications
| | |
| --- | --- |
| Temp.[(°C)°F] | Resistance (kΩ) |
| (-40) -40 | 48.1 |
| (-20) -20 | 15.6 |
| (0) 32 | 5.88 |
| (20) 68 | 2.51 |
| (40) 104 | 1.120 |
| (60) 140 | 0.612 |
| (80) 176 | 0.329 |
| (100) 212 | 0.186 |
| (120) 248 | 0.109 |
| (140) 284 | 0.067 |
| (150) 302 | 0.053 |
Position Sensor
▷ Specifications
| | |
| --- | --- |
| Items | Specifications |
| Output type | Non-Contact type (2 channels, PWM signal output) |
| Input power (V) | 4.5 - 5.5 |
Solenoid Valves
▷ Specifications
Items

Specifications

Direct control VFS

Normally Low : 28/B, 46/C, 37R/C
Normally High : UD/C, OD/C&LR/B

Control current (mA)

0 - 1100

Control pressure
[kpa (kgf/cm, psi)

0 - 1,569.06
(0 - 16, 0 - 227.57)

Internal resistance (Ω)

5.3 ± 0.3

Indirect control VFS

Normally Low : T/CON
Normally High : LINE

Control current (mA)

0 - 850

Control pressure
[kpa (kgf/cm, psi)]

0 - 519.75
(0 - 5.3, 0 - 75.38)

Internal resistance (Ω)

5.1 ± 0.3

ON / OFF

SS - A

Control voltage (V)

9 - 16

Control pressure
[kpa (kgf/cm, psi)]

0 - 490.33
(0 - 5.0, 0 - 71.12)

Internal resistance (Ω)

10 - 11

Solenoid Valve & Clutch/Brake Operation Table


Solenoid Valve

Clutch

Brake

ON/OFF

VFS

Direct

Indirect

SS-A

28/B_VFS

46/C_VFS

37R/C_VFS

UD/C_VFS

OD/C & LR/B_VFS

T/CON_VFS

LINE_VFS

46/C

37R/C

UD/C

OD/C

28/B

LR/B

P

●







●





◎











●

R

●





●

●





◎



●







●

N

●







●





◎











●

1

●











◎

◎





●





●

2



●







●

◎

◎





●



●



3







●



●

◎

◎



●

●







4





●





●

◎

◎

●



●







5













◎

◎





●

●





6





●



●



◎

◎

●





●





7







●

●



◎

◎



●



●





8



●





●



◎

◎







●

●



Remarks

● : Connected
◎ : Variable connected

●: In operation

Tightening Torques
Item

Tightening Torques

N.m

kgf.m

lb-ft

Postion sensor mounting nut

9.8 - 11.8

1.0 - 1.2

7.2 - 8.7

Electronic shift actuator mounting bolt

20.6 - 26.5

2.1 - 2.7

15.2 - 19.5

Transaxle support bracket mounting bolt

58.9 - 78.5

6.0 - 8.0

43.4 - 57.8

Transaxle mounting bracket bolt

107.9 - 127.5

11.0 - 13.0

79.6 - 94.0

Roll rod support bracket mounting bolt

49.0 - 68.6

5.0 - 7.0

36.2 - 50.6

Starter mounting bolt

49.0 - 63.7

5.0 - 6.5

36.2 - 47.0

Transaxle upper mounting bolt

63.7 - 83.4

6.5 - 8.5

47.0 - 61.5

32.4 - 49.0

3.3 - 5.0

23.9 - 36.2

Transaxle lower mounting bolt

39.2 - 46.1

4.0 - 4.7

28.9 - 33.9

78.5 - 98.1

8.0 - 10.0

57.9 - 72.3

ATF filler plug (eyebolt)

4.9 - 5.9

0.5 - 0.6

3.6 - 4.3

ATF drain plug

33.3 - 43.1

3.4 - 4.4

24.6 - 31.8

Transaxle control module mounting nut

9.8 - 11.8

1.0 - 1.2

7.2 - 8.7

Valve body cover mounting bolt

11.8 - 13.7

1.2 - 1.4

8.7 - 10.1

Main harness mounting bolt

9.8 - 11.8

1.0 - 1.2

7.2 - 8.7

Main connector fixing clip mounting bolt

9.8 - 11.8

1.0 - 1.2

7.2 - 8.7

Oil temperature sensor mounting bolt

9.8 - 11.8

1.0 - 1.2

7.2 - 8.7

Speed sensor mounting bolt

9.8 - 11.8

1.0 - 1.2

7.2 - 8.7

Special Service Tools Tool Name / Number Illustration Description 09200-3N000 Engine support fixture (Beam) Removal and installation of the transaxle...
Other information:
WARNING Always properly restrain children in the rear seats of the vehicle. Children of all ages are safer when restrained in the rear seat. A child riding in the front passenger seat can be forcefully struck by an inflating air bag resulting in SERIOUS INJURY or DEATH...
Description Rear view camera will activate when the backup light is ON with the ignition switch ON and the shift lever in the R position. This system is a supplemental system that shows behind the vehicle through the AV monitor or the ECM (Reverse Display Room Mirror) mirror while backing-up...
Categories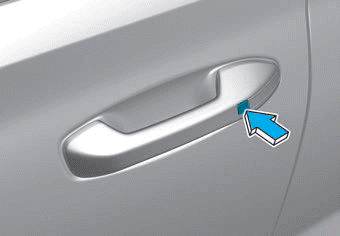 To lock your vehicle using the door handle button or the Smart Key:
1.Make sure all doors, the hood and the liftgate are closed.
2.Make sure you have the smart key in your possession.