Hyundai Palisade: Automatic Transaxle System (A8LF1) / Specifications
Item

Specifications

Engine type

Gasoline 3.8GDI

Automatic transaxle type

A8LF1

Clutch type

Torque converter

Drive system

2WD/4WD

Gear ratio

1st

4.808

2nd

2.901

3rd

1.864

4th

1.424

5th

1.219

6th

1.000

7th

0.799

8th

0.648

Reverse

3.425

Final gear ratio

3.510(2WD)/3.648(4WD)

Elements

Solenoid valve

Direct control VFS

5ea

Indirect control VFS

2ea

ON/OFF

1ea

Clutch & Brake

Clutch

4ea

Brake

2ea

Planetary gear

3ea

Oil filter

1ea

ATF

ATF Grade

Recommended

Allowed

ATF SP-IV or ATF SP4M-1

SK ATF SP-IV or SP4M-1
MICHANG ATF SP-IV or SP4M-1
NOCA ATF SP-IV or SP4M-1
Hyundai Genuine ATF SP-IV or SP4M-1

ATF quantity

About 7.0 L (1.85 U.S gal., 7.40 U.S.qt., 6.16 Imp.qt.)

※ VFS : Variable Force Solenoid
Sensors
Speed Sensor (Input shaft, Middle, Output shaft)
▷ Type : Hall Effect Sensor
▷ Specifications
Items

Specifications

Operation condition(°C)°F

(-40 to 150) -40 to 302

Output voltage(V)

High

1.18 - 1.68

Low

0.59 - 0.84

Oil Temperature Sensor
▷ Type : Negative Thermal Coefficient (NTC)
▷ Specifications
| | |
| --- | --- |
| Temp.[(°C)°F] | Resistance (kΩ) |
| (-40) -40 | 48.1 |
| (-20) -20 | 15.6 |
| (0) 32 | 5.88 |
| (20) 68 | 2.51 |
| (40) 104 | 1.120 |
| (60) 140 | 0.612 |
| (80) 176 | 0.329 |
| (100) 212 | 0.186 |
| (120) 248 | 0.109 |
| (140) 284 | 0.067 |
| (150) 302 | 0.053 |
Position Sensor
▷ Specifications
| | |
| --- | --- |
| Items | Specifications |
| Output type | Non-Contact type (2 channels, PWM signal output) |
| Input power (V) | 4.5 - 5.5 |
Solenoid Valves
▷ Specifications
Items

Specifications

Direct control VFS

Normally Low : 28/B, 46/C, 37R/C
Normally High : UD/C, OD/C&LR/B

Control current (mA)

0 - 1100

Control pressure
[kpa (kgf/cm, psi)

0 - 1,569.06
(0 - 16, 0 - 227.57)

Internal resistance (Ω)

5.3 ± 0.3

Indirect control VFS

Normally Low : T/CON
Normally High : LINE

Control current (mA)

0 - 850

Control pressure
[kpa (kgf/cm, psi)]

0 - 519.75
(0 - 5.3, 0 - 75.38)

Internal resistance (Ω)

5.1 ± 0.3

ON / OFF

SS - A

Control voltage (V)

9 - 16

Control pressure
[kpa (kgf/cm, psi)]

0 - 490.33
(0 - 5.0, 0 - 71.12)

Internal resistance (Ω)

10 - 11

Solenoid Valve & Clutch/Brake Operation Table


Solenoid Valve

Clutch

Brake

ON/OFF

VFS

Direct

Indirect

SS-A

28/B_VFS

46/C_VFS

37R/C_VFS

UD/C_VFS

OD/C & LR/B_VFS

T/CON_VFS

LINE_VFS

46/C

37R/C

UD/C

OD/C

28/B

LR/B

P

●







●





◎











●

R

●





●

●





◎



●







●

N

●







●





◎











●

1

●











◎

◎





●





●

2



●







●

◎

◎





●



●



3







●



●

◎

◎



●

●







4





●





●

◎

◎

●



●







5













◎

◎





●

●





6





●



●



◎

◎

●





●





7







●

●



◎

◎



●



●





8



●





●



◎

◎







●

●



Remarks

● : Connected
◎ : Variable connected

●: In operation

Tightening Torques
Item

Tightening Torques

N.m

kgf.m

lb-ft

Postion sensor mounting nut

9.8 - 11.8

1.0 - 1.2

7.2 - 8.7

Electronic shift actuator mounting bolt

20.6 - 26.5

2.1 - 2.7

15.2 - 19.5

Transaxle support bracket mounting bolt

58.9 - 78.5

6.0 - 8.0

43.4 - 57.8

Transaxle mounting bracket bolt

107.9 - 127.5

11.0 - 13.0

79.6 - 94.0

Roll rod support bracket mounting bolt

49.0 - 68.6

5.0 - 7.0

36.2 - 50.6

Starter mounting bolt

49.0 - 63.7

5.0 - 6.5

36.2 - 47.0

Transaxle upper mounting bolt

63.7 - 83.4

6.5 - 8.5

47.0 - 61.5

32.4 - 49.0

3.3 - 5.0

23.9 - 36.2

Transaxle lower mounting bolt

39.2 - 46.1

4.0 - 4.7

28.9 - 33.9

78.5 - 98.1

8.0 - 10.0

57.9 - 72.3

ATF filler plug (eyebolt)

4.9 - 5.9

0.5 - 0.6

3.6 - 4.3

ATF drain plug

33.3 - 43.1

3.4 - 4.4

24.6 - 31.8

Transaxle control module mounting nut

9.8 - 11.8

1.0 - 1.2

7.2 - 8.7

Valve body cover mounting bolt

11.8 - 13.7

1.2 - 1.4

8.7 - 10.1

Main harness mounting bolt

9.8 - 11.8

1.0 - 1.2

7.2 - 8.7

Main connector fixing clip mounting bolt

9.8 - 11.8

1.0 - 1.2

7.2 - 8.7

Oil temperature sensor mounting bolt

9.8 - 11.8

1.0 - 1.2

7.2 - 8.7

Speed sensor mounting bolt

9.8 - 11.8

1.0 - 1.2

7.2 - 8.7

Special Service Tools Tool Name / Number Illustration Description 09200-3N000 Engine support fixture (Beam) Removal and installation of the transaxle...
Other information:
C..
Description The charging system includes a battery, an alternator with a built-in regulator, and the charging indicator light and wire. The Alternator has eight built-in diodes, each rectifying AC current to DC current. Therefore, DC current appears at alternator "B" terminal...
Categories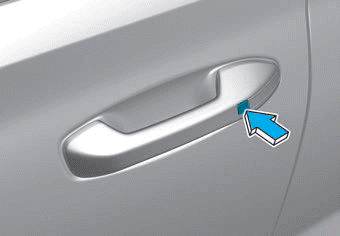 To lock your vehicle using the door handle button or the Smart Key:
1.Make sure all doors, the hood and the liftgate are closed.
2.Make sure you have the smart key in your possession.