Hyundai Palisade: Rear Wiper/Washer / Rear Wiper Motor
Repair procedures
Rear Wiper Motor
| | |
| --- | --- |
| 1. | Remove the connector from the rear wiper motor. |
| | |
| --- | --- |
| 2. | Connect battery positive (+) and negative (-) cables to terminals 2 and 1 respectively. |
3.

Check that the motor operates normally. Replace the motor if it operates abnormally.

| | |
| --- | --- |
| No | Description |
| 1 | Ground |
| 2 | Rear wiper motor (+) |
| 3 | Parking |



Automatic Stop Operation Check
| | |
| --- | --- |
| 1. | Operate the motor at low speed using the stalk control. |
| | |
| --- | --- |
| 2. | Stop the motor operation anywhere except at the off position by disconnecting terminal 3. |
| | |
| --- | --- |
| 3. | Connect the positive (+) lead from the battery to terminal 3 and the negative (-) lead to terminal 1. |
| | |
| --- | --- |
| 4. | Check that the motor stops running at the off position. |
Diagnosis with Diagnostic tool
1.

In the body electrical system, failure can be quickly diagnosed by using the vehicle diagnostic system (Diagnostic tool).

The diagnostic system (Diagnostic tool) provides the following information.

| | |
| --- | --- |
| (1) | Fault Code Searching : Checking failure and code number (DTC) |

| | |
| --- | --- |
| (2) | Data Analysis : Checking the system input/output data state |

| | |
| --- | --- |
| (3) | Actuation test : Checking the system operation condition |

| | |
| --- | --- |
| (4) | S/W Management : Controlling other features including system option setting and zero point adjustment |
| | |
| --- | --- |
| 2. | If diagnose the vehicle by Diagnostic tool, select "DTC Analysis" and "Vehicle". |
| | |
| --- | --- |
| 3. | Select the 'Data Analysis'. |
| | |
| --- | --- |
| 4. | Select the 'IBU_BCM' to search the current state of the input/output data. |
| | |
| --- | --- |
| 1. | Disconnect the negative (-) battery terminal. |
| | |
| --- | --- |
| 2. | Detach the rear wiper cap (A). |
| | |
| --- | --- |
| 3. | Remove the rear wiper arm & blade (A) after removing rear wiper nut. |
4.

Remove the tailgate trim.

(Refer to Body - "Tailgate Trim")
| | |
| --- | --- |
| 5. | Disconnect the motor connector (A). |
| | |
| --- | --- |
| 6. | Remove the rear wiper motor (A) after loosening bolts . |
1.

Install the rear wiper motor assembly.

Tightening torque Nut :

6.9 - 9.8 Nm (0.7 - 1.0 kgf.m, 5.0 - 7.2 lbf.ft)
| | |
| --- | --- |
| 2. | Install the tailgate trim. |
3.

Install the rear wiper arm cap after tighting the nut.

Tightening torque Bolt :

8.8 - 12.7 N.m (0.9 - 1.3 kgf.m, 6.5 - 9.4 Ib.ft)
| | |
| --- | --- |
| 4. | Set the rear wiper blade and to the lowest defogger heat line and tailgate glass. |
Repair procedures Inspection 1. Check for continuity between the terminals in each switch position as shown below...
Other information:
Repair procedures Inspection 1. Troubleshooting for Speaker (1) Basic inspection of speaker Inspect the sound from speaker after verifying that the speaker mounting screws are removed and the wiring connector is connected to remove any possible vibration transmitted from body trims and surrounding parts...
..
Categories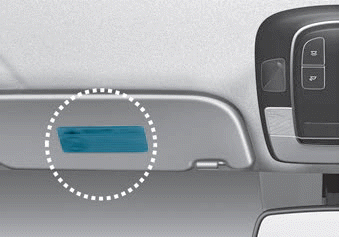 Air bag warning labels, required by the U.S. National Highway Traffic Safety Administration (NHTSA), are attached to alert the driver and passengers of potential risks of the air bag system. Be sure to read all of the information about the air bags that are installed on your vehicle in this Owners Manual.