Hyundai Palisade: Emission Control System / Components and components location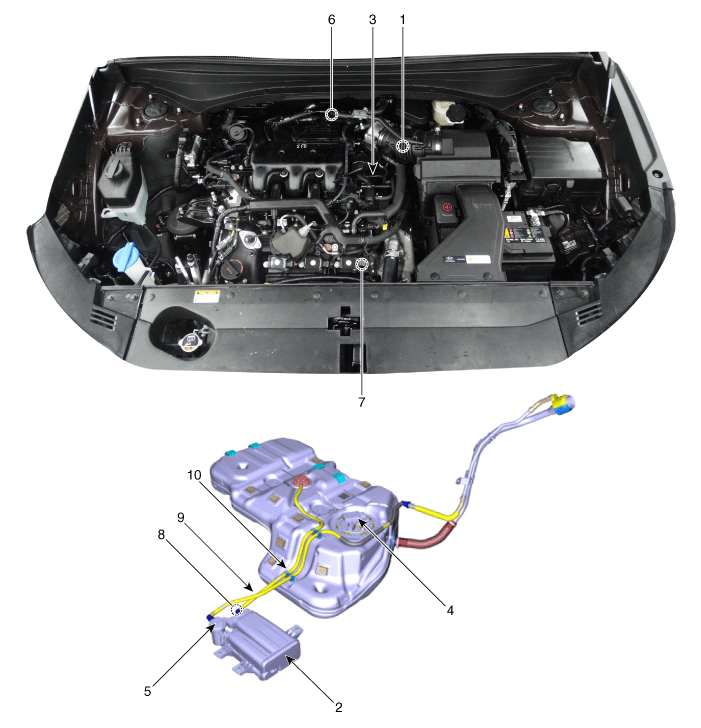 1. PCV Valve
2. Canister
3. Purge control solenoid valve (PCSV)
4. Fuel level sensor (FLS)
5. Fuel tank air filter

6. Catalytic converter (WCC)
7. Catalytic converter (UCC)
8. Vapor hose (Canister ↔ Intake Manifold )
9. Vapor Hose (Canister ↔ Fuel Tank)
10. Ventilation hose (Canister ↔ Atmosphere)

1. PCV valve

2. Canister


3. Purge Control Solenoid Valve (PCSV)

4. Fuel Tank Air Filter


5. Catalytic Converter (WCC, Bank 1)

5. Catalytic Converter (WCC, Bank 2)


6. Catalytic Converter (UCC)






7. Leveling Hose
8. Vapor Hose (Canister ↔ Intake Manifold)
9. Vapor Hose (Canister ↔ Fuel Tank)
10. Ventilation Hose (Canister ↔ Atmosphere)

Other information:
Repair procedures Removal 1. Remove the fuel pump. (Refer to Fuel Delivery System - "Fuel Pump") 2. Disconnect the electric pump wiring connector (A), and the fuel sender connector (B)...
Repair procedures Removal • Be careful not to damage the fuel line during repair. • In case of removing the high pressure fuel pump, high pressure fuel pipe, delivery pipe, and injector, there may be injury caused by leakage of the high pressure fuel...
Categories
The front seat can be adjusted by using the levers located on the outside of the seat cushion. Before driving, adjust the seat to the proper position so that you can easily control the steering wheel, foot pedals and controls on the instrument panel.