Hyundai Palisade: Emission Control System / Components and components location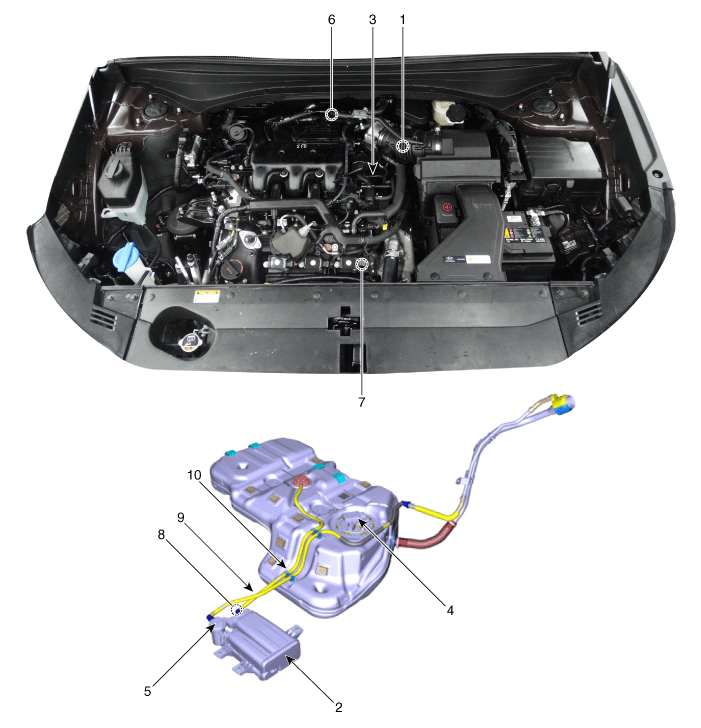 1. PCV Valve
2. Canister
3. Purge control solenoid valve (PCSV)
4. Fuel level sensor (FLS)
5. Fuel tank air filter

6. Catalytic converter (WCC)
7. Catalytic converter (UCC)
8. Vapor hose (Canister ↔ Intake Manifold )
9. Vapor Hose (Canister ↔ Fuel Tank)
10. Ventilation hose (Canister ↔ Atmosphere)

1. PCV valve

2. Canister


3. Purge Control Solenoid Valve (PCSV)

4. Fuel Tank Air Filter


5. Catalytic Converter (WCC, Bank 1)

5. Catalytic Converter (WCC, Bank 2)


6. Catalytic Converter (UCC)






7. Leveling Hose
8. Vapor Hose (Canister ↔ Intake Manifold)
9. Vapor Hose (Canister ↔ Fuel Tank)
10. Ventilation Hose (Canister ↔ Atmosphere)

Other information:
The Forward Collision Avoidance Assist (FCA) system is designed to monitor the vehicle ahead or a pedestrian on the roadway through radar signals and camera recognition to warn the driver that a collision is imminent, and if necessary, apply emergency braking...
WARNING Always follow these instructions when recharging your vehicle's battery to avoid the risk of SERIOUS INJURY or DEATH from explosions or acid burns: Before performing maintenance or recharging the battery, turn off all accessories and place the ignition switch to the LOCK/OFF position...
Categories
The front seat can be adjusted by using the levers located on the outside of the seat cushion. Before driving, adjust the seat to the proper position so that you can easily control the steering wheel, foot pedals and controls on the instrument panel.