Hyundai Palisade: Tires and wheels / Wheel Replacement, Tire Traction, Tire Maintenance
Wheel Replacement
When replacing the metal wheels for any reason, make sure the new wheels are equivalent to the original factory units in diameter, rim width and offset.
Tire Traction
Tire traction can be reduced if you drive on worn tires, tires that are improperly inflated or on slippery road surfaces. Tires should be replaced when the tread depth is at least 2/32 inch (1.6 mm). To reduce the possibility of losing control, slow down whenever there is rain, snow or ice on the road.
Tire Maintenance
In addition to proper inflation, correct wheel alignment helps to decrease tire wear. If you find a tire is worn unevenly, have your dealer check the wheel alignment.
When you have new tires installed, make sure they are balanced. This will increase vehicle ride comfort and tire life. Additionally, a tire should always be rebalanced if it is removed from the wheel.
If the tire is worn evenly, a tread wear indicator will appear as a solid band across the tread. This shows there is less than 2/32 inch (1.6 mm) of tread left on the tire...
This information identifies and describes the fundamental characteristics of the tire and also provides the tire identification number (TIN) for safety standard certification...
Other information:
1. The Safe Exit Assist system is provided to help prevent the passengers from opening a door by warning the passengers when an approaching vehicle from the rear area is detected after the vehicle stops. 2. When an approaching vehicle from the rear area is detected after the vehicle stops, the rear door does not unlock even when the driver tries to unlock the rear door using the Electronic child safety lock button...
..
Categories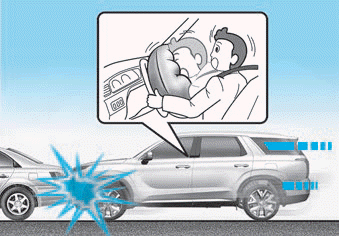 Front air bags
Front air bags and the driver's knee air bag are designed to inflate in a frontal collision depending on the the severity of impact of the front collision.