Hyundai Palisade: 4 Wheel Drive (AWD) System / Specifications
| | | | |
| --- | --- | --- | --- |
| Items | N.m | Kgf.m | lb-ft |
| Transfer assembly mounting bolts | 60.8 - 65.7 | 6.2 - 6.7 | 44.8 - 48.5 |
| AWD ECM mounting nuts | 9.8 - 11.8 | 1.0 - 1.2 | 7.2 - 8.7 |
| Coupling assembly mounting bolts | 56.9 - 64.7 | 5.8 - 6.6 | 42.0 - 47.7 |
| Propeller shaft mounting bolts | 49.0 - 68.6 | 5.0 - 7.0 | 36.2 - 50.6 |
| Transfer oil drain plug | 39.2 - 58.8 | 4.0 - 6.0 | 28.9 - 43.4 |
| Transfer oil filler plug | 39.2 - 58.8 | 4.0 - 6.0 | 28.9 - 43.4 |
Engine

Items

Specification

Capacity

Diesel 2.2

Transfer oil

Hypoid gear oil API GL-5, MS 517-15 GTC 75W/85
(SK HCT-5 GEAR OIL 75W/85 or EQUIVALENT)

Filled up to lower filler plug thread level.
0.65L ± 0.0225L
(0.17 U.S gal, 0.69 U.S qt, 0.57 lmp qt) ± (0.01 U.S gal, 0.03 U.S qt, 0.03 lmp qt)

Gasoline 3.5, 3.8

Filled up to lower filler plug thread level.
0.70L ± 0.0325L
(0.18 U.S gal, 0.74 U.S qt, 0.62 lmp qt) ± (0.01 U.S gal, 0.03 U.S qt, 0.03 lmp qt)

ALL

Coupling oil

TL7300-SHELL TF0870

0.385ml ± 17.5ml
(0.10 U.S.gal.,0.41U.S.qt,0.34Imp.qt.) ± (0.04 U.S.gal.,0.16U.S.qt,0.13Imp.qt.)

Special Service Tools Engine Tools (Number and name) Illustration Use Diesel 2...
Other information:
The rear seatbacks can be folded to facilitate carrying long items or to increase the luggage capacity of the vehicle. WARNING Never allow passengers to sit on top of the folded down seatback while the vehicle is moving. This is not a proper seating position and no seat belts are available for use...
If a window senses any obstacle while it is closing automatically, it will stop and lower approximately 12 inches (30 cm) to allow the object to be cleared. If the window detects the resistance while the power window switch is pulled up continuously, the window will stop upward movement then lower approximately 1 inch (2...
Categories
Seat belt warning light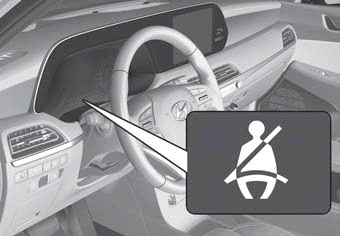 Driver's seat belt warning
As a reminder to the driver, the seat belt warning light will illuminate for approximately 6 seconds each time you place the ignition switch to the ON position regardless of belt fastening. At this time, if the seat belt is not fastened a warning chime will sound for 6 seconds.