Hyundai Palisade: 4 Wheel Drive (AWD) System / Specifications
| | | | |
| --- | --- | --- | --- |
| Items | N.m | Kgf.m | lb-ft |
| Transfer assembly mounting bolts | 60.8 - 65.7 | 6.2 - 6.7 | 44.8 - 48.5 |
| AWD ECM mounting nuts | 9.8 - 11.8 | 1.0 - 1.2 | 7.2 - 8.7 |
| Coupling assembly mounting bolts | 56.9 - 64.7 | 5.8 - 6.6 | 42.0 - 47.7 |
| Propeller shaft mounting bolts | 49.0 - 68.6 | 5.0 - 7.0 | 36.2 - 50.6 |
| Transfer oil drain plug | 39.2 - 58.8 | 4.0 - 6.0 | 28.9 - 43.4 |
| Transfer oil filler plug | 39.2 - 58.8 | 4.0 - 6.0 | 28.9 - 43.4 |
Engine

Items

Specification

Capacity

Diesel 2.2

Transfer oil

Hypoid gear oil API GL-5, MS 517-15 GTC 75W/85
(SK HCT-5 GEAR OIL 75W/85 or EQUIVALENT)

Filled up to lower filler plug thread level.
0.65L ± 0.0225L
(0.17 U.S gal, 0.69 U.S qt, 0.57 lmp qt) ± (0.01 U.S gal, 0.03 U.S qt, 0.03 lmp qt)

Gasoline 3.5, 3.8

Filled up to lower filler plug thread level.
0.70L ± 0.0325L
(0.18 U.S gal, 0.74 U.S qt, 0.62 lmp qt) ± (0.01 U.S gal, 0.03 U.S qt, 0.03 lmp qt)

ALL

Coupling oil

TL7300-SHELL TF0870

0.385ml ± 17.5ml
(0.10 U.S.gal.,0.41U.S.qt,0.34Imp.qt.) ± (0.04 U.S.gal.,0.16U.S.qt,0.13Imp.qt.)

Special Service Tools Engine Tools (Number and name) Illustration Use Diesel 2...
Other information:
..
I : Inspect and if necessary, adjust, correct, clean or replace. R : Replace or change. *1 : The drive belt should be replaced when cracks occur or tension is reduced. *2 : If TOP TIER Detergent Gasoline is not available, one bottle of additive is recommended...
Categories
Seat belt warning light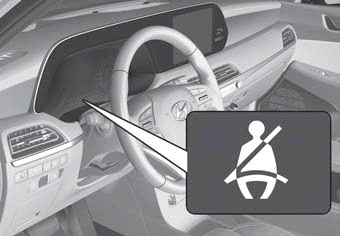 Driver's seat belt warning
As a reminder to the driver, the seat belt warning light will illuminate for approximately 6 seconds each time you place the ignition switch to the ON position regardless of belt fastening. At this time, if the seat belt is not fastened a warning chime will sound for 6 seconds.