Hyundai Palisade: Engine Control/Fuel System / Special service tools
Tool Name / Number

Illustration

Description

Fuel Pressure Gauge
09353-24100


Used for measuring the pressure in fuel line

Fuel Pressure Gauge Adapter
0K353-D4100



Used for connecting between high pressure fuel pump and low pressure fuel feed tube to measure the pressure in fuel line

※SST 09353-C1000 also can be used

Heated Oxygen Sensor Socket Wrench
09392-1Y100 (19 mm)


Removal and installation of the heated oxygen sensor

※ SST No.09392-2H100 model also can be used for removing the Heated Oxygen Sensor.

Torque Wrench Socket
09314-3V100 (17 mm)


Used for removing / installing high pressure fuel pipe

Injector Combustion Seal Guide & Sizing tool
09353-2B000



Used for installing injector combustion seal on injector

Injector Remover
09351-D2100


Removing the stuck injector

Low Pressure Fuel Pump Plate
Cover Remover
09310-B8100


Removal and installation of the low pressure fuel pump

Specifications Fuel Delivery System Items Specification Fuel Tank Capacity 71L (18...
Basic Troubleshooting Basic Troubleshooting Guide Customer Problem Analysis Sheet Basic Inspection Procedure Measuring Condition of Electronic Parts' Resistance The measured resistance at high temperature after vehicle running may be high or low...
Other information:
Troubleshooting Symptom Passible Cause Remedy (Refer to page) Water leaks from sunroof Deteriorated roof lid weatherstrip Replace Excessive roof lid-to-body clearance and improperly fitted weatherstrip Adjust Wind noise around sunroof Loose or deformed deflector, gaps in body work Retighten adjust or replace Noise created by moving sunroof lid Foreign particles lodged in guide rail Check drive cable and guide rails for foreign particles Loose guide rails and lid Retighten Motor runs but sunroof does not move or moves only partially Foreign particles lodged in guide rail Adjust or replace Incorrect engagement of motor pinion with drive cable Decrease in motor's clutch slipping force Increased sunroof sliding resistance or interference of sunroof with drive cables, weatherstrip, etc...
..
Categories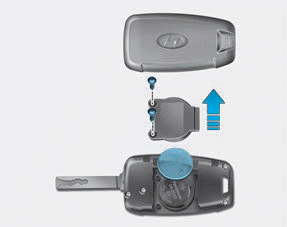 If the remote key is not working properly, try replacing the battery with a new one.
Battery Type: CR2032
To replace the battery: