Hyundai Palisade: Safety System of Your Vehicle / Seats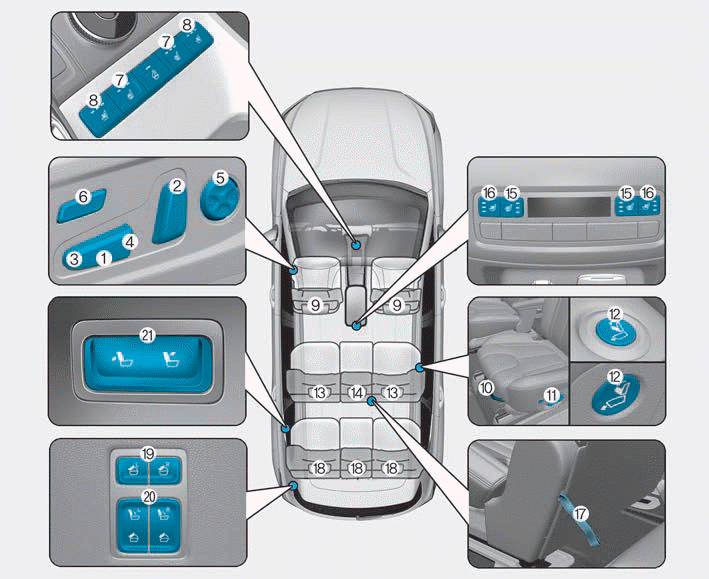 Front seats
(1) Seat sliding forward or rearward
(2) Seatback angle adjustment
(3) Seat cushion angle adjustment
(4) Seat height adjustment
(5) Lumbar support adjustment
(Driver's seat)*
(6) Seat cushion length adjustment*
(7) Seat warmer*
(8) Air ventilation seat*
(9) Head restraint
2nd row seat
(10) Seat sliding forward or rearward
(11) Seatback angle adjustment / seat folding
(12) Walk-in switch
(13) Head restraint
(14) Head restraint (8 passengers)
(15) Seat warmer*
(16) Air ventilation seat*
(17) Seat folding strap
3rd row seat
(18) Head restraints
(19) 2nd row seat remote folding switch
(20) 3rd row seat remote folding/ unfolding switch*
(21) Seatback angle adjustment (for 3rd row seat)
You will find many safety precautions and recommendations throughout this section, and throughout this manual. The safety precautions in this section are among the most important...
Adjusting the seats so that you are sitting in a safe, comfortable position plays an important role in driver and passenger safety together with the seat belts and air bags in an accident WARNING Do not use a cushion that reduces friction between the seat and the passenger...
Other information:
If there is a problem with the brake pedal while driving, emergency braking is possible by pulling up and holding the EPB switch. Braking is possible only while you are holding the EPB switch. However, braking distance will be longer than normal...
..
Categories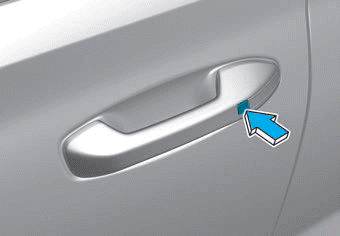 To lock your vehicle using the door handle button or the Smart Key:
1.Make sure all doors, the hood and the liftgate are closed.
2.Make sure you have the smart key in your possession.