Hyundai Palisade: Maintenance / Light bulbs
Consult an authorized HYUNDAI dealer to replace most vehicle light bulbs. It is difficult to replace vehicle light bulbs because other parts of the vehicle must be removed before you can get to the bulb. This is especially true for removing the headlamp assembly to get to the bulb(s).
Removing/installing the headlamp assembly can result in damage to the vehicle.
Information
After heavy driving, rain or washing, headlamp and trunk lenses could appear frosty. This condition is caused by the temperature difference between the lamp inside and the outside temperature. This is similar to the condensation on your windows inside your vehicle during the rain and doesn't indicate a problem with your vehicle. If the water leaks into the lamp bulb circuitry, have your vehicle checked by an authorized HYUNDAI dealer.
WARNING
Prior to replacing a lamp, depress the brake pedal, move the shift button into P (Park) apply the parking brake, place the ignition switch to the OFF position, and take the key with you when leaving the vehicle to avoid sudden movement of the vehicle and to prevent possible electric shock.
Be aware the bulbs may be hot and may burn your fingers.
Categories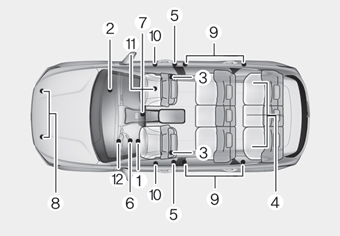 The SRS consists of the following components:
1. Driver's front air bag module
2. Passenger's front air bag module
3. Side air bag modules
4. Curtain air bag modules
5. Retractor pre-tensioner
6. Air bag warning light
7. SRS control module (SRSCM)/ Rollover sensor
8. Front impact sensors
9. Side impact sensors
10.Side pressure sensors
11. Occupant classification system
12. Driver's knee airbag module