Hyundai Palisade: Driving Your Vehicle / Forward Collision-Avoidance Assist (FCA) system
The Forward Collision-Avoidance Assist (FCA) system is designed to help detect and monitor the vehicle ahead or help detect a pedestrian in the roadway through radar signals and camera recognition to warn the driver that a collision is imminent, and if necessary, apply emergency braking.
WARNING
Take the following precautions when using the Forward Collision- Avoidance Assist (FCA) system:
This system is only a supplemental system and it is not intended to, nor does it replace the need for extreme care and attention of the driver. The sensing range and objects detectable by the sensors are limited. Pay attention to the road conditions at all times.
Drive at posted speed limits and accordance to road conditions.
Always drive cautiously to prevent unexpected and sudden situations from occurring. The Forward Collision- Avoidance system may not always stop the vehicle completely and is only intended to help mitigate a collision that is imminent.
Categories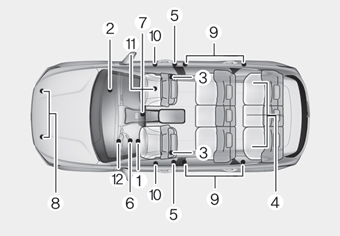 The SRS consists of the following components:
1. Driver's front air bag module
2. Passenger's front air bag module
3. Side air bag modules
4. Curtain air bag modules
5. Retractor pre-tensioner
6. Air bag warning light
7. SRS control module (SRSCM)/ Rollover sensor
8. Front impact sensors
9. Side impact sensors
10.Side pressure sensors
11. Occupant classification system
12. Driver's knee airbag module