Hyundai Palisade: Charging System / Battery
Specifications
| | |
| --- | --- |
| Item | Specification |
| Model type | AGM80L-BCI |
| Capacity [20HR/5HR] (AH) | 80/64 |
| Cold Cranking Amperage (A) | 800 (SAE) / 640 (EN) |
| Reserve Capacity (Min) | 155 |
| | |
| --- | --- |
| Item | Specification |
| Capacity [20HR / 5HR] (AH) | 68 / 54 |
| Cold Cranking Amperage (A) | 600 (SAE / EN) |
| Reserve Capacity (Min) | 113 |
| | |
| --- | --- |
| Item | Specification |
| Capacity [20HR / 5HR] (AH) | 80 / 64 |
| Cold Cranking Amperage (A) | 660 (SAE / EN) |
| Reserve Capacity (Min) | 145 |
| | |
| --- | --- |
| Item | Specification |
| Capacity [20HR / 5HR] (AH) | 90 / 72 |
| Cold Cranking Amperage (A) | 740 (SAE) / 740 (EN) |
| Reserve Capacity (Min) | 170 |
| | |
| --- | --- |
| Item | Specification |
| Capacity [20HR / 5HR] (AH) | 68 / 54 |
| Cold Cranking Amperage (A) | 600 (SAE / EN) |
| Reserve Capacity (Min) | 113 |
| | |
| --- | --- |
| Item | Specification |
| Capacity [20HR / 5HR] (AH) | 80 / 64 |
| Cold Cranking Amperage (A) | 660 (SAE / EN) |
| Reserve Capacity (Min) | 145 |
| | |
| --- | --- |
| Item | Specification |
| Capacity [20HR / 5HR] (AH) | 90 / 72 |
| Cold Cranking Amperage (A) | 740 (SAE) / 740 (EN) |
| Reserve Capacity (Min) | 170 |
| | |
| --- | --- |
| • | Model type description |
| | |
| --- | --- |
| • | Cold Cranking Ampere (CCA) : A rating used in the battery industry to define a battery's ability to start an engine in cold temperatures. |
| | |
| --- | --- |
| – | The rating is the number of amps a new, fully charged battery can deliver at -18 °C(-0.4 °F) for 30 seconds, while maintaining a voltage of at least 7.2 volts for a 12 volt battery. |
| | |
| --- | --- |
| – | The higher the CCA rating, the greater the starting power of the battery. |
| | |
| --- | --- |
| • | RESERVE CAPACITY (RC) : A battery industry rating, defining a battery's ability to power a vehicle with an inoperative alternator or fan belt. |
| | |
| --- | --- |
| – | The rating is the number of minutes a battery at 26.7 °C(80 °F) can be discharged at 25 amps and maintain a voltage of 10.5 volts for a 12 volt battery. |
| | |
| --- | --- |
| – | The higher the reserve rating, the longer your vehicle can operate should your alternator or fan belt fail. |
BCI Type
Capacity
(5HR/20HR)

Length

Width

Height

Total Height

L (mm)

W (mm)

T (mm)

TH (mm)

28/35

188 - 192

126 - 130

198 - 202

218 - 222

32/40

194 - 198

133 - 137

199 - 203

223 - 227

36/45

203 - 207

173 - 177

200 - 204

221 - 225

44/55

213 - 217

173 - 177

198 - 202

218 - 222

48/60

228 - 232

173 - 177

200 - 204

221 - 225

54/68

258 - 262

173 - 177

198 - 202

220 - 224

56/70

258 - 262

173 - 177

198 - 202

223 - 227

64/80

274 - 278

170 - 174

198 - 202

221 - 225

70/88

349 - 353

172 - 176

186 - 200

183 - 187

72/90

300 - 304

170 - 174

200 - 204

221 - 225

76/95

294 - 298

172 - 176

198 - 202

220 - 224

80/100

326 - 330

170 - 174

203 - 207

225 - 229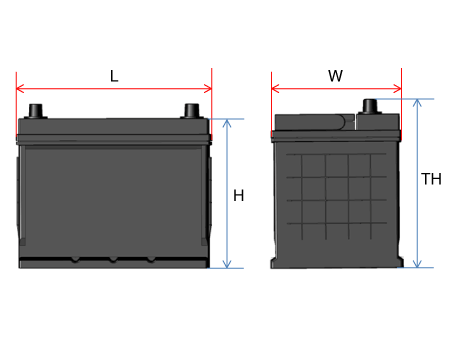 DIN Type
Capacity
(5HR/20HR)

Length

Width

Height

Total Height

L (mm)

W (mm)

T (mm)

TH (mm)

36/45

205 - 207

173 - 175

164 - 168

188 - 190

48/60

205 - 207

173 - 175

164 - 168

188 - 190

54/68

205 - 207

173 - 175

164 - 168

188 - 190

64/80

205 - 207

173 - 175

164 - 168

188 - 190

72/90

205 - 207

173 - 175

164 - 168

188 - 190

80/100

205 - 207

173 - 175

164 - 168

188 - 190

88/110

205 - 207

173 - 175

164 - 168

188 - 190

AGM DIN Type
Capacity
(5HR/20HR)

Length

Width

Height

Total Height

L (mm)

W (mm)

T (mm)

TH (mm)

40/50

205 - 207

173 - 175

164 - 168

188 - 190

48/60

227 - 229

173 - 175

164 - 168

188 - 190

56/70

276 - 278

173 - 175

164 - 168

188 - 190

64/80

312 - 314

173 - 175

164 - 168

188 - 190

72/90

351 - 353

173 - 175

164 - 168

188 - 190

84/105

392 - 394

173 - 175

164 - 168

188 - 190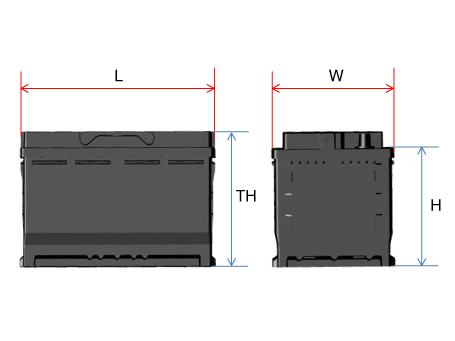 Description and operation
| | |
| --- | --- |
| 1. | The CMF(Closed Maintenance Free) battery is, as the name implies, totally maintenance free and has no removable battery cell caps. |
| | |
| --- | --- |
| 2. | The CMF(Closed Maintenance Free) battery does not require water replenishment for the repair. |
| | |
| --- | --- |
| 3. | The battery is completely sealed, except for small vent holes in the cover. |
Troubleshooting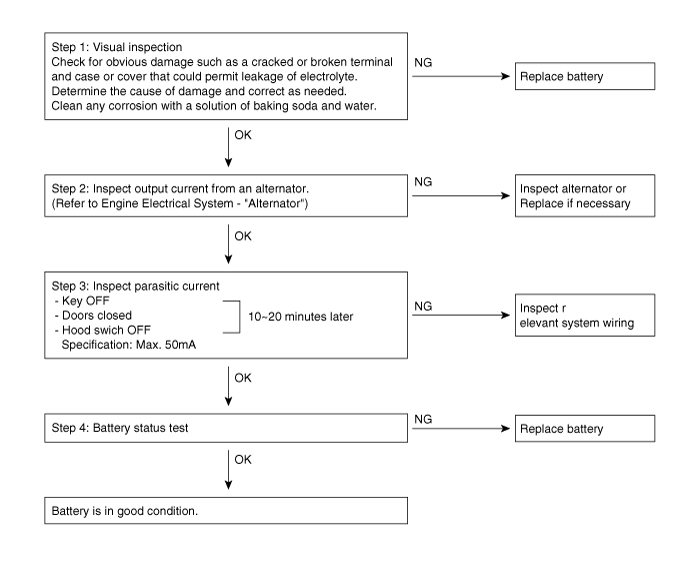 Specifications Specification Item Specification Rated voltage 13.5V , 180A Speed in use 1,500 - 18,000rpm Voltage regulator IC Regulator built in type Default regulated voltage (V) [COM terminal] 14...
Description and operation Description Vehicles have many control units that use more electricity. These units control their own system based on information from various sensors...
Categories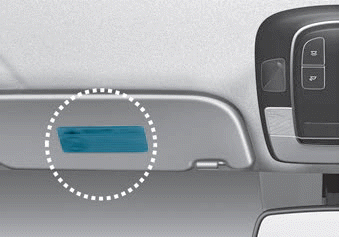 Air bag warning labels, required by the U.S. National Highway Traffic Safety Administration (NHTSA), are attached to alert the driver and passengers of potential risks of the air bag system. Be sure to read all of the information about the air bags that are installed on your vehicle in this Owners Manual.