Hyundai Palisade: Steering System / Specifications
Item

Specification

Type

Electric Power Steering System

Steering gear

Type

Rack & Pinion

Rack stroke

156 ± 1 mm (6.14 ± 0.0039 in)

Steering angle (Max.)

Inner

2WD : 35.6° - 37.5°
4WD : 35.6° - 37.6°

Outer

2WD : 32.3°
4WD : 32.3°

Item

Tightening torque (kgf.m)

N.m

kgf.m

lb-ft

Tire wheel Hub nuts

88.3 - 107.9

9.0 - 11.0

65.1 - 79.6

Steering wheel lock nut

44.1 - 49.0

4.5 - 5.0

32.5 - 36.2

Steering column assembly to Universal joint

27.5 - 31.4

2.8 - 3.2

20.3 - 23.1

Steering column mounting bolts

44.1 - 49.0

4.5 - 5.0

32.5 - 36.2

Steering column mounting nuts

12.7 - 17.7

1.3 - 1.8

9.4 - 13.0

Universal joint to pinion of steering gear

32.4 - 37.3

3.3 - 3.8

23.9 - 27.5

Tie rod end castle nut

23.5 - 33.3

2.4 - 3.4

17.4 - 24.6

Steering gear box to sub freame

88.3 - 107.9

9.0 - 11.0

65.1 - 79.6

Stabilizer link nut

98.1 - 117.7

10.0 - 12.0

72.3 - 86.8

Roll rod mounting bolt & nut

107.9 - 127.5

11.0 -13.0

79.6 - 94.0

Lower arm to knuckle

98.1 - 117.7

10.0 -12.0

72.3 - 86.8

Sub frame mounting bolts

(A) 44.1 - 58.8

4.5 - 6.0

32.5 - 43.4

(B) 156.9 - 176.5

16.0 - 18.0

115.7 - 130.2

Upper roll rod bracket bolt

(A) 107.9 - 127.5

11.0 - 13.0

79.6 - 94.0

(B) 49.0 - 63.7

5.0 - 6.5

36.2 - 47.0

Other information:
Repair procedures Removal 1. Turn the ignition switch OFF and disconnect the battery negative (-) cable. 2. Lift the vehicle. 3. Remove the rear-LH wheel, tire, and the inner wheel house...
Armrest (2nd row, 8 passengers vehicle) The armrest is located in the center of the rear seat. Use the strap in the center of the armrest to pull it down. Armrest (2nd row, 7 passengers vehicle) Pull the armrest down from the seatback to use it...
Categories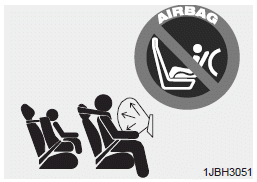 Even though your vehicle is equipped with the OCS, never install a child restraint in the front passenger's seat. An inflating air bag can forcefully strike a child or child restraint resulting in serious or fatal injury.