Hyundai Palisade: Engine Control/Fuel System / Specifications
Fuel Delivery System
Items

Specification

Fuel Tank

Capacity

71L (18.7 U.S. gal., 75.0 U.S.qt., 61.7 lmp.qt.)

Fuel Filter
(Built into fuel pump assembly)

Type

Paper type

Fuel Pressure Regulator
(Built into fuel pump assembly)

Regulated Fuel Pressure

360 - 400 kPa (3.67 - 4.08 kgf/cm, 52.2 - 58.0 psi)

Fuel Pump

Type

Electrical, in-tank type

Driven by

Electric motor

Sensors
Intake Air Temperature Sensor (IATS)
▷ Type : Thermistor type
▷ Specification
Temperature

Resistance (kΩ)

°C

°F

-40

-40

40.93 - 48.35

-20

-4

13.89 - 16.03

0

32

5.38 - 6.09

10

50

3.48 - 3.90

20

68

2.31 - 2.57

40

104

1.08 - 1.21

60

140

0.54 - 0.66

80

176

0.29 - 0.34

Manifold Absolute Pressure Sensor (MAPS)
▷ Type : Piezo-resistive pressurpe sensor
▷ Specification
Pressure (kPa)

Output Voltage (V)
[Vref = 5V]

20.0

0.79

46.66

1.84

101.32

4.0

Engine Coolant Temperature Sensor (ECTS)
▷ Type : Thermistor type
▷ Specification
Temperature

Resistance (kΩ)

°C

°F

-40

-40

48.14

-20

-4

14.13 - 16.83

0

32

5.79

20

68

2.31 - 2.59

40

104

1.15

60

140

0.59

80

176

0.32

100

212

1.19

120

230

0.14 - 0.15

Throttle Position Sensor (TPS) [integrated into ETC module]
▷ Type : Hall IC Non-contact sensor type
▷ Specification
Throttle angle (°)

Output Voltage (V) [Vref = 5V]

TPS1

TPS2

0

0.5

4.5

10

0.96

4.05

20

1.41

3.59

30

1.87

3.14

40

2.32

2.68

50

2.78

2.23

60

3.23

1.77

70

3.69

1.32

80

4.14

0.86

90

4.6

0.41

98

4.65

0.35

C.T (0)

0.5

4.5

W.O.T (86)

4.41

0.59

| | |
| --- | --- |
| Item | Specification |
| Coil Resistance (Ω) | 0.3 -100 [20°C (68°F)] |
Crankshaft Position Sensor (CKPS)
▷ Type : Magnetic field sensitive sensor
▷ Specification
| | |
| --- | --- |
| Item | Specification |
| Coil Resistance (Ω) | 500 - 620 [20°C (68°F)] |
| pin | 2 |
Camshaft Position Sensor (CMPS)
▷ Type : Hall effect type
▷ Specification
Item

Specification

Output Voltage (V)

High : 4.2 or more

Low : 0.5 or below

Air Gap (mm)

0.5 - 1.5

pin

3

▷ Type : Piezo-electricity type
▷ Specification
| | |
| --- | --- |
| Item | Specification |
| Capacitance (pF) | 850 - 1150 |
| Resistance (MΩ) | 3.90 - 5.84 |
| pin | 2 |
Heated Oxygen Sensor (HO2S) [Bank 1, 2 / Sensor 1]
▷ Type : Zirconia (ZrO2) [Linear] Type
▷ Specification
| | |
| --- | --- |
| Item | Specification |
| Heater Resistance (Ω) | 2.4 - 4.0 [20°C (68°F)] |
| Operation Voltage (V) | 12 |
| pin | 6 |
Heated Oxygen Sensor (HO2S) [Bank 1, 2 / Sensor 2]
▷ Type : Zirconia (ZrO2) [Binary] Type
▷ Specification
| | |
| --- | --- |
| Item | Specification |
| Heater Resistance (Ω) | 3.3 - 4.1 [20°C (68°F)] |
| pin | 4 |
Rail Pressure Sensor (RPS)
▷ Type : Piezo-electricity type
▷ Specification
Pressure

Output Voltage (V)
[Vref=5V]

bar

[MPa (kgf/cm², psi)]

0

0 (0, 0)

0.5

140

14 (142, 2031)

2.5

280

28 (286, 4061)

4.5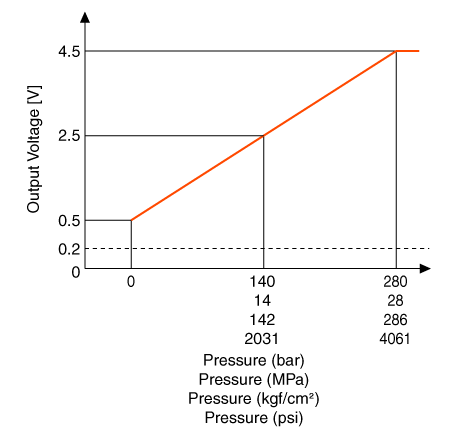 CVVT Oil Temperature Sensor (OTS)
▷ Type : Thermistor type
▷ Specification
Temperature

Resistance (kΩ)

°C

°F

-40

-40

41.74 - 54.54

-20

-4

14.13 - 16.83

0

32

5.28 - 6.3

25

77

1.88 - 2.14

80

176

0.31 - 0.33

140

284

0.07 - 0.08

Oil Pressure Sensor (OPS)
▷ Type : Piezo-resistive pressure sensor
▷ Specification
Pressure (Bar)

Output Voltage (V)
[Vref=5V]

0

0.46 - 0.54

2

1.25 - 1.35

4

2.05 - 2.15

6

2.84 - 2.96

10

4.42 - 4.58

Accelerator Position Sensor (APS)
▷ Type : Variable resistor type
▷ Specification
Accelerator Position

Output Voltage (V) [Vref=5V]

APS1

APS2

C.T

0.7 - 0.8

0.33 - 0.43

W.O.T

3.85 - 4.35

1.93 - 2.18

Actuators
▷ Specification
Item

Specification

Coil Resistance (Ω)

1.30 - 1.44 [20°C (68°F)]

Fuel pressure
[kPa (bar, kgf/cm)]

2000 - 19907
(20 - 200, 2.4 - 203)

Operation Voltage (V)

6 - 16

pin

2

ETC Motor [integrated into ETC Module]
▷ Specification
| | |
| --- | --- |
| Item | Specification |
| Coil Resistance (Ω) | 0.3 - 100 [20°C (68°F)] |
| Operation Voltage (V) | 7.7 - 16.0 |
Purge Control Solenoid Valve (PCSV)
▷ Specification
| | |
| --- | --- |
| Item | Specification |
| Coil Resistance (Ω) | 18.5 - 22.5 [20°C (68°F)] |
| pin | 2 |
| Operation Voltage (V) | 9 - 16 |
| Rated current (A) | 0.66 |
| Valve type | Normal Closed |
Variable Force Solenoid (VFS) [Bank 1, 2 / Intake]
▷ Specification
| | |
| --- | --- |
| Item | Specification |
| Coil Resistance (Ω) | 7.0 - 8.0 [20°C (68°F)] |
| Operation Voltage (V) | 10 - 15 |
CVVT Oil Control Valve (OCV) [Bank 1,2 / Exhaust]
▷ Specification
| | |
| --- | --- |
| Item | Specification |
| Coil Resistance (Ω) | 9.4 - 10.4 [20°C (68°F)] |
| Supply Voltage (V) | 10 - 16 |
| pin | 2 |
Variable Intake Solenoid (VIS) Valve
▷ Specification
| | |
| --- | --- |
| Item | Specification |
| Coil Resistance (Ω) | 30.0 - 35.0 [20°C (68°F)] |
| Operation Voltage (V) | 9 - 16 |
| pin | 2 |
Fuel Pressure Control Valve (F10CV)
▷ Specification
| | |
| --- | --- |
| Item | Specification |
| Coil Resistance (Ω) | 0.39 - 0.43 [20°C (68°F)] |
| pin | 2 |
Item

Specification

Ignition Timing (°)

BTDC 5° ± 10°

Idle Speed (rpm)

A/C OFF

Neutral, N, P-range

650 ± 100

D-range

600 ± 100

A/C ON

Neutral, N, P-range

650 ± 100

D-range

600 ± 100

Special Service Tools Tool Name / Number Illustration Description Fuel Pressure Gauge 09353-24100 Used for measuring the pressure in fuel line Fuel Pressure Gauge Adapter 0K353-D4100 Used for connecting between high pressure fuel pump and low pressure fuel feed tube to measure the pressure in fuel line ※SST 09353-C1000 also can be used Heated Oxygen Sensor Socket Wrench 09392-1Y100 (19 mm) Removal and installation of the heated oxygen sensor ※ SST No...
Other information:
Driver's and passenger's front air bags Your vehicle is equipped with a Advanced Supplemental Restraint System (SRS) and lap/shoulder belts at both the driver and passenger seating positions. The SRS consists of air bags which are located in the center of the steering wheel, and the passenger's side front panel pad above the glove box...
Repair procedures Removal and Installation • Be careful not to damage the parts located under the vehicle (floor under cover, fuel filter, fuel tank and canister) when raising the vehicle using the lift...
Categories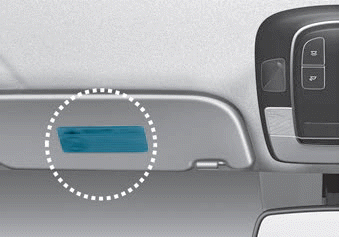 Air bag warning labels, required by the U.S. National Highway Traffic Safety Administration (NHTSA), are attached to alert the driver and passengers of potential risks of the air bag system. Be sure to read all of the information about the air bags that are installed on your vehicle in this Owners Manual.