Hyundai Palisade: Tires and wheels / All Season Tires, Snow Tires, Radial-Ply Tires
All Season Tires
HYUNDAI specifies all season tires on some models to provide good performance for use all year round, including snowy road conditions. All season tires are identified by ALL SEASON and/or M+S (Mud and Snow) on the tire sidewall. Snow tires have better snow traction than all season tires and may be more appropriate in some areas.
Longer wearing tires can be more susceptible to irregular tread wear. It is very important to follow the tire rotation interval in this chapter to achieve the tread life potential of these tires. Cuts and punctures in radial-ply tires are repairable only in the tread area, because of sidewall flexing. Consult your tire dealer for radial-ply tire repairs.
WARNING
Do not mix bias ply and radial ply tires under any circumstances. This may cause unusual handling characteristics that may cause loss of vehicle control resulting in an accident.
CAUTION
When driving on a rough road or off road, drive cautiously because tires and wheels may be damaged. And after driving, inspect tires and wheels.
When passing over a pothole, speed bump, manhole, or curb stone, drive slowly so that the tires and wheels are not damaged.
If the tire is subjected to a severe impact, have the tire and wheel inspected by an authorized HYUNDAI dealer.
It is not easy to recognize tire damage with your own eyes. But if there is the slightest hint of tire damage, have the tire checked or replaced because the tire damage may cause air leakage from the tire.
If the tire is damaged by driving on a rough road, off road, pothole, manhole, or curb stone, it will not be covered by the warranty.
Air Pressure The amount of air inside the tire pressing outward on the tire. Air pressure is expressed in pounds per square inch (psi) or kilopascal (kPa)...
A vehicle's electrical system is protected from electrical overload damage by fuses. This vehicle has 2 (or 3) fuse panels, one located in the driver's side panel bolster, the other in the engine compartment near the battery...
Other information:
Tightening Torques Item N.m kgf.m lb-ft Passenger Air Bag 8.8 - 10.8 0.9 - 1.1 6.5 - 8.0 Curtain airbag (CAB) bolt 7...
..
Categories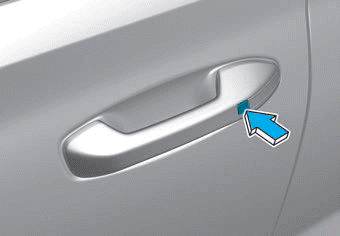 To lock your vehicle using the door handle button or the Smart Key:
1.Make sure all doors, the hood and the liftgate are closed.
2.Make sure you have the smart key in your possession.