Hyundai Palisade: Specifications, Consumer Information and Reporting Safety Defects / Tires and Wheels, Volume and Weight, Air Conditioning System
Tires and Wheels

NOTICE
It is permissible to add 3 psi to the standard tire pressure specification if colder temperatures are expected soon. Tires typically loose 1psi (7kPa) for every 12°F temperature drop. If extreme temperature variations are expected, recheck your tire pressure as necessary to keep them properly inflated.
An air pressure generally decreases, as you drive up to a high-altitude area above sea level. Thus, if you plan to drive a high-altitude area, check the tire pressures in advance. If necessary, inflate them to a proper level. (Air inflation per altitude : +2.4 psi/1 mile)
CAUTION
When replacing tires, use the same size originally supplied with the vehicle. Using tires of a different size can damage the related parts or not work properly.
Volume and Weight

Air Conditioning

To help achieve proper engine and powertrain performance and durability, use only lubricants of the proper quality. The correct lubricants also help promote engine efficiency that results in improved fuel economy...
Other information:
In this mode, you can change the settings of the instrument cluster, doors, lamps, etc. 1. Head-up display 2. Driver Assistance 3. Door 4. Lights 5. Sound 6. Convenience 7. Service interval 8. Other 9. Language 10. Reset The information provided may differ depending on which functions are applicable to your vehicle...
Description and operation Description Located in the engine coolant passage of the cylinder head, Engine Coolant Temperature Sensor (ECTS) detects the engine coolant temperature. The ECTS uses a thermistor with resistance in proportion to the temperature...
Categories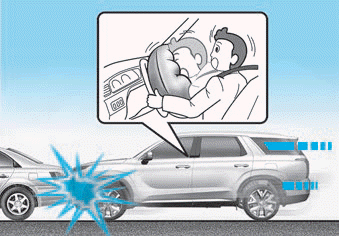 Front air bags
Front air bags and the driver's knee air bag are designed to inflate in a frontal collision depending on the the severity of impact of the front collision.